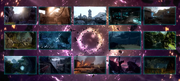 Expeditions are high-end missions available after completing the main campaign. These challenges pit you against the fiercest and most brutal adversaries Enoch has to offer. These are big, hand-crafted new levels that do not recycle content from the main game, featuring unique mechanics and challenges.[1]
Mysterious points of interest have appeared across the world, with new stories to be discovered at each one. They also contain precious resources, allowing for even more powerful gear. There are 14 locations to explore, the final one being the Eye of the Storm, which is unlocked at Challenge Tier 15.
There are 15 difficulty tiers, called Challenge Tiers, and they are separate from World Tiers. Difficulty scales as you progress through different tiers, which will raise enemy and loot levels. Tiers are needed for two things: determining the difficulty of a mission, and to unlock new locations. After the main story, you generally have to complete any expedition on one tier to advance to the next tier (complete X to unlock X+1).[2]
The faster you clear a mission, the richer the rewards. Individual enemies do not drop loot on the ground though, but instead it is all received at the end of the expedition if you complete it. Loot is instanced for each player.
Completing maps with a higher Challenge Tier gives a greater chance of dropping higher rarity gear.
Achieving a lower time (Gold/Silver/Bronze, timers depend on individual maps) grants more drops on top of that.
Pod Resources (PR), which are only gained completing Expeditions, increase with each tier and decrease with gold>silver>bronze.
"+ Bonus Rewards" are granted regardless of completion time (past bronze too) but not quantified. They are typically scraps, leather, iron, and titanium.
Tier
Item Rarity
Gold (4x loot)
Silver (3x loot)
Bronze (2x loot)
1-9
-na-
10
Legendary

Epic

Rare

PR

6%

85%

9%

-na-

3%

70%

27%

-na-

1.5%

55%

43.5%

-na-

11
Legendary

Epic

Rare

PR

7.5%

87%

5.5%

2.125

3.75%

72%

27%*

1.590

1.88%

57%

41.1%*

-na-

12
Legendary

Epic

Rare

PR

10%

89%

1%

4.570

5%

74%

21%

-na-

2.5%

59%

38.5%

-na-

13
Legendary

Epic

Rare

PR

15%

85%

-none-

10.600

7.5%

76%

16.5%

-na-

3.75%

61%

35.2%*

-na-

14
Legendary

Epic

Rare

PR

20%

80%

-none-

26.805

10%

78%

12%

20.100

5%

63%

32%

-na-

15
Legendary

Epic

Rare

PR

25%

75%

-none-

74.305

12.5%

80%

7.5%

55.725

6.25%

65%

28.7%*

-na-
(*Yes, some numbers do not add up properly, by decimals. They have been reported here as they are currently [8th April] written in game.)
---
Community content is available under
CC-BY-SA
unless otherwise noted.