Technomancer is one of the classes in Outriders.
The Technomancer is a long-range support specialist that possesses the most different healing abilities of all four classes. It also utilizes a wide range of deadly contraptions.
Melee Skill: Deal damage and inflict Freeze to all enemies within a small radius. The Melee Skill does not require a skill slot nor any Class Points. Sprinting (vs standing) before using the Melee Skill changes to a ground-slam that appears to have a larger area-of-effect but also has a longer cooldown. The base cooldown is 1 second (sprinting Melee Skill 2 seconds); however, each subsequent uses of the Melee Skill increases its cooldown-even in between abilities and weapon fire.
Healing Mechanic: You will recover a portion of the damage you deal as Health.
Class Traits:
Increase long range Weapon Damage by 15%.
Increase Skill Leech by 15%.
Increase Weapon Leech by 15%.
The Technomancer's skills can be modified by Technomancer Mods available on armors of rare (blue) rarity or higher.
The Technomancer can use Class Points to choose along three different class trees. However, the Technomancer must first unlock the Technomancer Class Trait by selecting this class.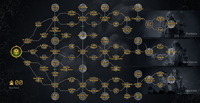 First Patch - April 9, 2021
The Technomancer Hero Tree node -"Damage Against Poison" - has had its power reduced to 15% (Previously: 30%)

While the Technomancer's Blighted Rounds do not provide any damage increase on their own other than ignoring armor as Anomaly Damage, they do provide an excellent tool for spreading the Vulnerable and Toxic statuses. which in turn can scale out of proportion.
Legendary Class Armor Sets (Signature Perks)
[
edit
|
edit source
]
---
Community content is available under
CC-BY-SA
unless otherwise noted.